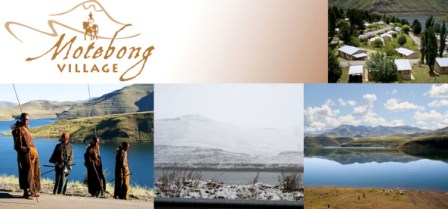 Motebong Village
Peace and tranquillity. That is how Motebong Village is often described. A place to really unwind in the Majestic Lesotho Highlands. Located on the banks of the Katse Dam, and some 50 Kilometres from Katse Village, is this quiet, simple yet relaxing resort. Motebong village caters for groups, individuals and families who really want to get away from the 'Rat Race' and unwind. At an altitude of approximately 2, 600 metres above sea level, Motebong village is also an ideal spot for those wishing to experience the clean air in the mountains, crisp, clear water and outstanding views.

Ha Lejone Village, Leribe, Lesotho
Maseru
Lesotho
info@motebong.com This e-mail address is being protected from spambots. You need JavaScript enabled to view it.
+266 2222 7600
+266 2222 7609
+266 5974-4567 (Nthomeng)
Alt Mobile Phone numbers:
Mntungwa: +266-5952-0737
Lietsiso: +266-5858-0149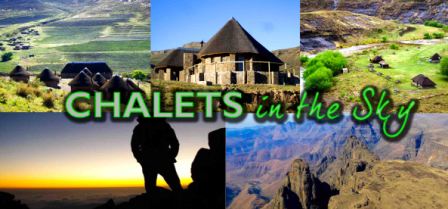 Maloraneng Chalets
Situated at Maloraneng village, along the banks of Khubelu River, also known as "Chalets in the Sky". The facilities consist of 6 guest rondavels each sleeps between 2 - 4 people; a lappa or common hall possesses cooking materials, fire place tables and chairs and can be used for various group activities or for personal relaxation while sitting on the deck to view the bountiful scenery surrounding the camp. The chalets consist of a double bed, sleeper couch, bathroom with shower, flush toilet and basin, gas stove, fire place and an outside braai [bedding, firewood & coal is provided; charcoal is available for a nominal fee.
Access to the facilities is by a 9km route taking approximately 50 minutes and only 4x4 vehicles are allowed to maneuver the steep curves and rocky tracks from the main road near Lets'eng Mine to Mokhotlong. Shuttle service can be arranged for those with 4x2s and a 24 hour security safe parking is available.

Address
Khubelu Valley – Mokhotlong
[near Lets'eng Diamond Mine]
PO Box 179 Maseru 100, Lesotho

Booking Details

[+266] 62 86 36 76 / 63 01 69 82
[+266] 22 26 69 20
Contact Persons
Thabo Lerotholi
General Manager
Likotsi Lemeke
Marketing & Public Relations Manager
raletsoanahalil@yahoo.com koo.ahead@gmail.com
[+266] 63 01 69 82 [+266] 62 86 36 76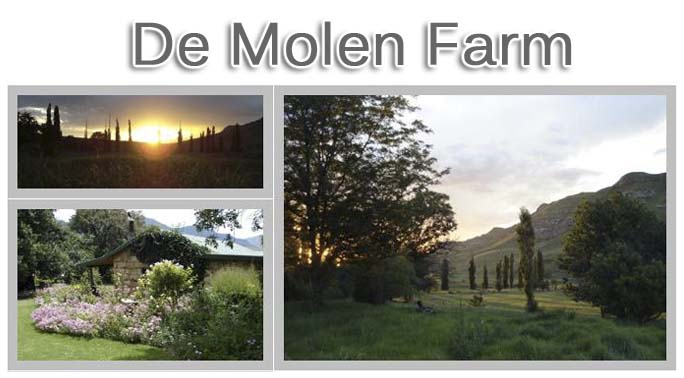 De Molen Farm is situated in the Rooiberge Mountains between Clarens and the Golden Gate National Park, just a few hundred metres off the tar road.
The farm was established in 1872 and holds a 3 star rating from the South African Tourism Grading Council.
Romantic open fireplaces and electric blankets for chilly evenings, fully furnished and equipped (including linen and towels), serviced daily, self catering.
Hiking and Mountain Bike Trails, gentle walks, picnic areas, river and dam for catch and release fishing, caves to explore and 7km of the Little Caledon River.
Nestled in 360 degree panoramic mountain views. Explore the Maluti Drakensberg Mountains and the delights of Clarens, the art capital of the Free State.
Restaurants, pubs, art galleries and coffee shops 5km from the farm. Other attractions include the Cherry Festival, Asparagus Festival, Clarens Golf Estate, Golden Gate National Park which offers: abseiling, Whitewater rafting, horse riding, quad-biking and bushman paintings all within close proximity of De Molen Farm.
Contact : Martin & Elrine Britz
Tel : +27 (0) 58 256 1096 | Fax : +27 (0) 58 256 1096
Cell : +27 (0) 82 490 9186
Email : elrine@telkomsa.net
Postal address: De Molen, PO Box 5, Clarens 9707, South Africa
Advertising Opportunities
Contact Andre at 083 632 8729 or 058 303 3168
Email: pafly@netactive.co.za